Stories
Antarctic icebreaker RSV Nuyina featured in new stamp issue
The forthcoming arrival of Australia's new Antarctic icebreaker, RSV Nuyina, in its home port of Hobart in 2021, is being marked today with a stamp issue by Australia Post.
The four stamps and minisheet highlight the ship's state-of-the-art design, its role as an icebreaker and scientific research platform, and the indigenous origin of its name and its historical connection to other Australian Antarctic ships.
The word "nuyina" — pronounced 'noy-yee-nah' — means "southern lights" in palawa kani, the language of indigenous Tasmanians. The name also links the icebreaker to Antarctica, where the geomagnetic phenomenon (or 'aurora australis') can be observed in polar skies, as well as to both its immediate predecessor, the icebreaker RSV Aurora Australis, and to Douglas Mawson's earlier Antarctic vessel, SY Aurora.
The new icebreaker's state-of-the-art design and construction will ensure superior endurance and capability for extended research seasons, while also providing an enhanced cargo carrying capacity for the potential resupply of two Australian Antarctic stations in one voyage. The ship's two 55 tonne cranes on the bow are a key part of this capability and feature prominently on the stamps.
Nuyina's scientific trawl deck, which also features on the stamps, will be a key part of its success as a platform for marine science and sea ice studies. The science trawl deck has a flexible design that will future-proof the ship — enabling it to support research that answers the critical questions of today and any future demands during the ship's 30 year lifetime.
The Nuyina stamps join a range of other Antarctic-themed stamp issues, including 2014's Centenary of the Australasian Antarctic Expedition (1911–14), 2017's East Antarctic Deep Sea Creatures, 2019's Mapping the Australian Antarctic Territory, and 2020's Wyatt Earp Expedition, 1948.
The Nuyina is one of a number of major Antarctic investments the Australian Government is making under the Australian Antarctic Strategy and 20 Year Action Plan.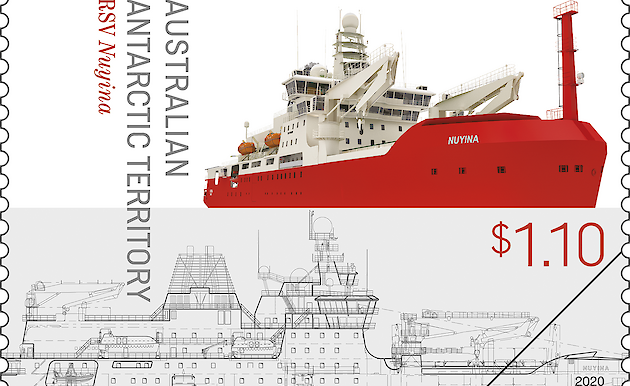 This content was last updated 3 years ago on .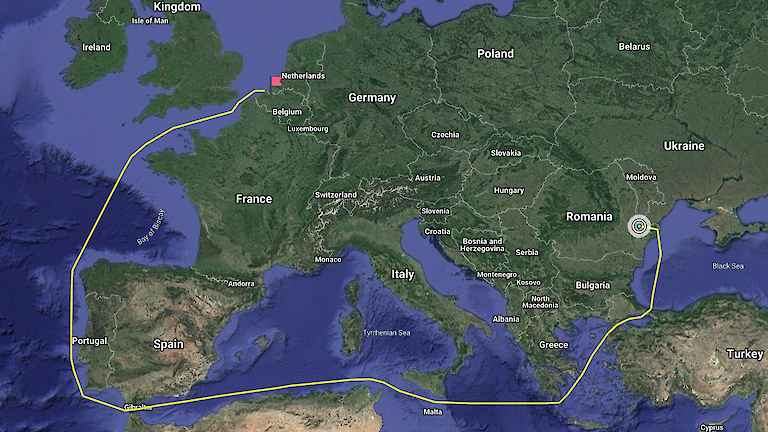 Australia's new icebreaker on the move
5 August 2020
Australia's new icebreaker RSV Nuyina is bound for final commissioning and sea trials in the Netherlands, surviving its first underwater scrape in…
Read More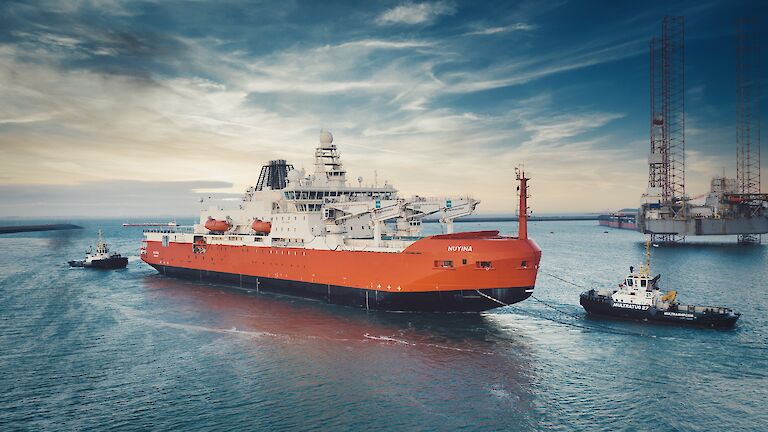 Giant icebreaker pulls into Netherlands for final fit-out
29 August 2020
Australia's new icebreaker RSV Nuyina has arrived in the Netherlands for the final stages of its testing and commissioning.
Read More