STORIES
Science deck on RSV Nuyina
It may not sound like cutting-edge science, but a large aft deck, with a matrix of attachment points, good winches and lifting equipment, and a range of power supplies and water, are key to enabling a wide range of science.
The large A-frame, winches and lifting equipment at the stern of Nuyina are used to deploy fishing nets and dredges, robotic vehicles, mooring systems, cameras and sediment corers.
The aft deck also supports fourteen 20-foot containers and six 10-foot containers, which can be positioned by overhead cranes. These containers house specialised scientific equipment, with eight of the containers having connections for containerised laboratories of the future.
The heavy lifting equipment can lift and move items up to 10 tonnes around the deck and over the stern, and pull over 30 tonnes when extracting sediment cores from the bottom of the ocean. The different attachment points on the deck mean that scientists can install their own specialised winches and other large equipment onboard, and safely secure items when not being used.
The facilities offered on the aft deck allow:
Scientists studying trace metals in the ocean, such as iron, to have access to the clean water they need (free from trace metal contamination associated with the ship and instruments).
Krill researchers to fill tanks housed in aquarium containers with seawater cooled to as low as −1.8°C, to keep collected krill in pristine condition.
Glaciologists to process and store ice cores.
Biologists to grow cultures in culture cabinets and store ice algae and other cooled or frozen samples at different temperatures down to −135°C.
Geoscientists to store and power specialised equipment, and refrigerate many sediment core samples in containers.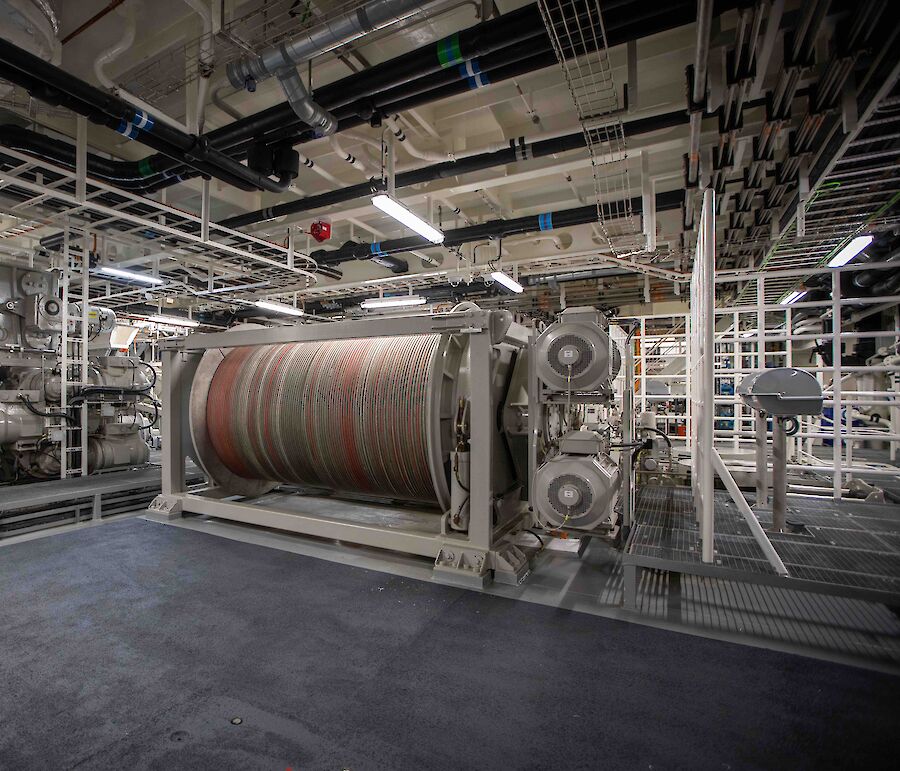 Some of Nuyina's winches carry electrical-optical-mechanical cables to provide power to and retrieve data from deployed packages. Winches include two trawl winches, a deep sea corer winch, a deep sea towing winch with electro-optical capability for connecting cameras and other powered equipment, a towed body winch, and a general purpose winch with dynex fibre rope.
Photo: Pete Harmsen
This content was last updated 2 months ago on .