Construction of Australia's new scientific icebreaker RSV Nuyina has reached another major milestone, with more than 7000 tonnes of steel cut, and the assembly of the base of the hull in the dry dock.
Australian Antarctic Division Modernisation Program Manager, Rob Bryson, and Icebreaker Project Manager, Nick Browne, recently visited Damen Shipyards in Galati, Romania, to inspect the progress.
"It's exciting to see the hull of the ship taking shape in the dry dock as the blocks of steel making up its base are consolidated," Mr Bryson said.
"Each steel block is built from smaller 'sections' that are welded together and made up of a combination of steel plate, structural steel bars called stiffeners, and upright walls called bulkheads.
"Already we can see the beginnings of the cargo fuel tanks, drop keels, moon pool, wet well, and mounting points for the main engine and electric drive bays."
Mr Browne said a number of high tensile grades of steel are being used to ensure the ship can cope with freezing Antarctic temperatures.
"Above the water line the steel can withstand temperatures down to −40°C, while the steel below the water line can withstand −10°C," he said.
The block construction method allows the shipyard to build different parts of the ship at the same time, to make best use of the labour and yard space available. At Damen Shipyards the block sizes are limited to 300 tonnes, which is the lifting capacity of the cranes.
"The building strategy broadly reflects the cranes' lift capacity," Mr Browne said.
"It will take 58 building steps to produce 229 steel sections that will be consolidated into 57 blocks. There are so many sections because the steel is thick and heavy, due to the structural requirements of icebreaking."
Because of its weight, only about half the ship will be constructed in the dry dock, before it is floated out to a wet dock for completion.
The ship marked its first milestone, the laying of the first keel block, in August 2017.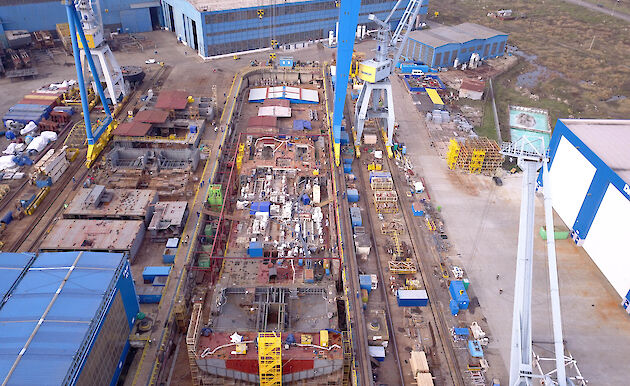 This content was last updated 5 years ago on .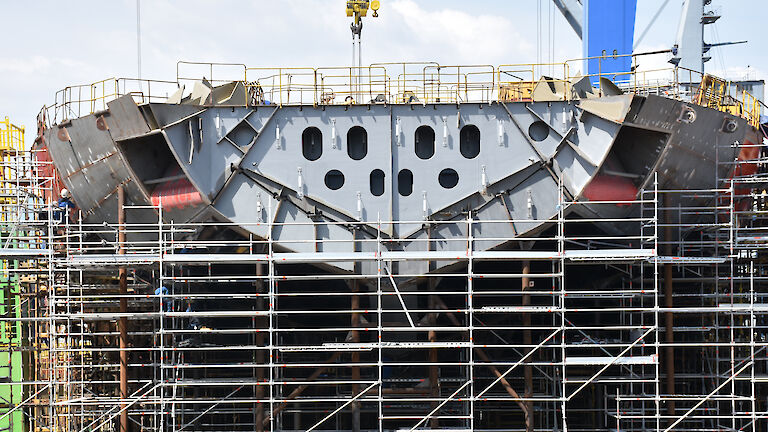 Anchors, ice knives and thrusters
4 May 2018
The hull of Australia's new Antarctic icebreaker RSV Nuyina is rapidly taking shape.
Read More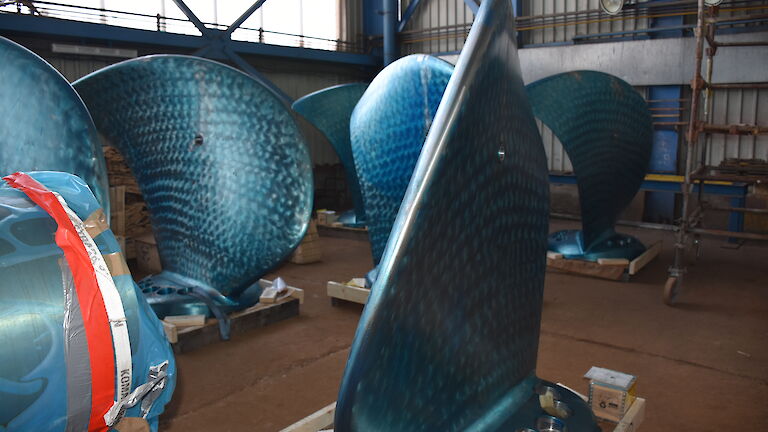 Icebreaker construction propels ahead
25 May 2018
Key pieces of the RSV Nuyina's propulsion system have recently arrived at the Damen Shipyard at Galati, including the propellers and propeller hubs.
Read More