Stories
Antarctic icebreaker arrives in Hobart
The nation celebrated the arrival of Australia's most advanced Antarctic research and resupply vessel, RSV Nuyina, in Hobart today.
Prime Minister Scott Morrison said the ship symbolised Australia's long history in Antarctica and the Government's commitment to Antarctic research and environmental protection.
"From Sir Douglas Mawson's heroic era of exploration to today we have led the way in the care, protection and understanding of Antarctica," Prime Minister Morrison said.
"This $1.9 billion investment in RSV Nuyina continues that work, that link. And it's a symbol of our commitment to Australian scientific research in Antarctica and the Southern Ocean."
Despite southern Tasmania's COVID-19 lockdown, the 160 metre-long, 50 metre-tall, bright orange icebreaker was impossible to miss as it sailed up the River Derwent in squally conditions and tied up at Macquarie Wharf 3.
Australian Antarctic Division Director, Kim Ellis, said he was excited and relieved to see this "Swiss Army knife" of Antarctic vessels arrive home, after a 24,000 kilometre, 47 day voyage from the Netherlands.
The ship had been under construction in Romania since 2017, before moving to the Netherlands for final fit-out and testing in 2020.
"After 10 years of planning, design and construction, to see Nuyina enter its home port is truly a historic moment," Mr Ellis said.
"However this is only the beginning of the journey for Nuyina. It will now embark on a period of further commissioning and ice trials, before it officially launches in to 30 years of service to the Australian Antarctic Program."
Captain Gerry O'Doherty and an Australian crew, many of whom worked on previous icebreaker RSV Aurora Australis, have been thrilled to take Nuyina through its paces over the past six weeks.
"I just love science at sea. Vessels like Nuyina, and Aurora Australis before her, tick all the boxes for me. Science, ice navigation, seafaring. It's a great combination," Captain O'Doherty said.
Minister for the Environment, Sussan Ley, said Nuyina reinforced Hobart's gateway city status.
"Nuyina's arrival underlines Hobart's importance as the gateway to East Antarctica," Minister Ley said.
"The ship will be a spectacular part of the local landscape, and the more all Australians learn about the capability of this ship, the more they will be amazed."
The $500 million ship is capable of carrying 117 expeditioners, 1200 tonnes of cargo and 1.9 million litres of fuel. It will deliver unparalleled scientific, cargo and icebreaking capability, and provide a lifeline to Australia's Antarctic and sub-Antarctic stations.
The Prime Minister wished future Antarctic expeditions on the new icebreaker well.
"To the future crews and expeditioners aboard Nuyina, you carry with you the discoveries of the past, the questions of today and the dreams of the future. I wish you calm seas and clear skies," he said.
The word nuyina means 'southern lights' in palawa kani, the language of Tasmanian Aborigines.
RSV Nuyina will remain in Hobart until December, for a period of port-based commissioning and testing.
Due to COVID-19 restrictions, public access will be limited until restrictions ease.
This content was last updated 2 years ago on .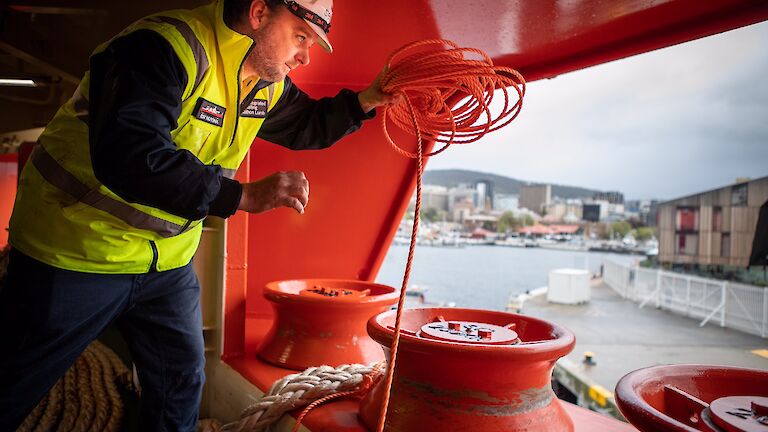 Hobart welcomes world's most advanced Antarctic ship
16 October 2021
The world's most advanced Antarctic icebreaker, science and resupply ship, Australia's RSV Nuyina, has arrived at its home port of Hobart, after an…
Read More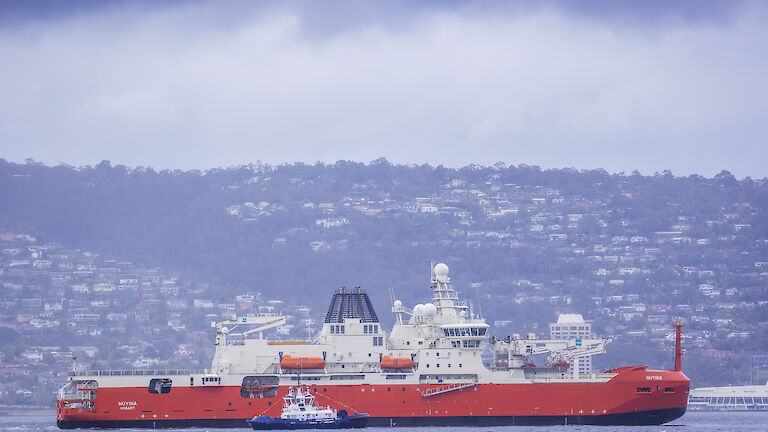 Antarctic shipping update
19 October 2021
The Australian Antarctic Program has a high tempo shipping season planned, with three ships working to support research and resupply activities.
Read More