More than 8600 tonnes of steel has now been shaped, welded and assembled into the hull of Australia's new icebreaker RSV Nuyina, equivalent to 48 blue whales or 191 844 large emperor penguins.
A few key pieces of the ship's propulsion system have recently arrived at the Damen Shipyard at Galati, including the propellers and propeller hubs, and the sterntubes, which enclose the propeller shafts.
The following images show:
1. The blades of the propellers covered in a blue protective coating. Each propeller has four blades, made out of stainless steel and weighing about 4.5 tonnes each. The total diameter of the complete propeller is 5.65m.
2. This is a propeller hub on to which the blades are bolted. The hub is attached to the propeller shaft, which is the first section of the propulsion shaft line that extends all the way from the propeller to one of the two main engines. The propeller hub is made of nickel, aluminium and bronze and is 1.94m diameter and weighs almost 21 tonnes, without propeller blades or oil inside. During operation the hub is filled with oil to actuate the variable pitch of the propeller.
3. The propeller shaft is installed within this sterntube, which is 12.7m long and fits inside the gondola (see Anchors, ice knives and thrusters). The sterntube is an important part of the ship's propulsion system because it enables the rotating propeller shaft to pass through the hull without water leaking into the ship. The sterntube will have a shaft seal fitted at each end and will be filled with fresh water that will be maintained at a pressure slightly higher than the surrounding sea water. This will assist the sealing effectiveness of the outer shaft seal. The water in the sterntube will also act as lubricant for the synthetic sterntube bearings.
4. Here's a sneak peek at the colour of the new ship — International Orange.
5 and 6. Graphical representations of the propellers, propeller hubs, and propeller shafts inside their sterntubes, once installed.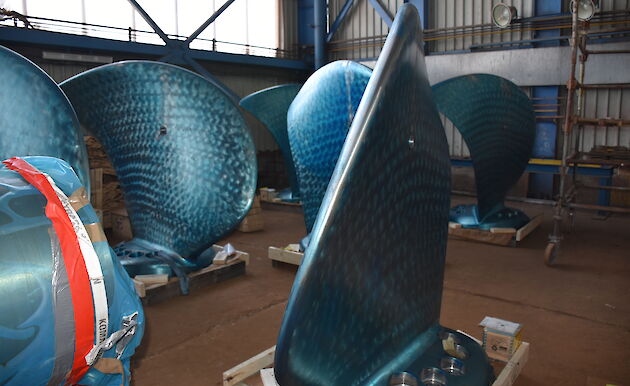 This content was last updated 4 years ago on .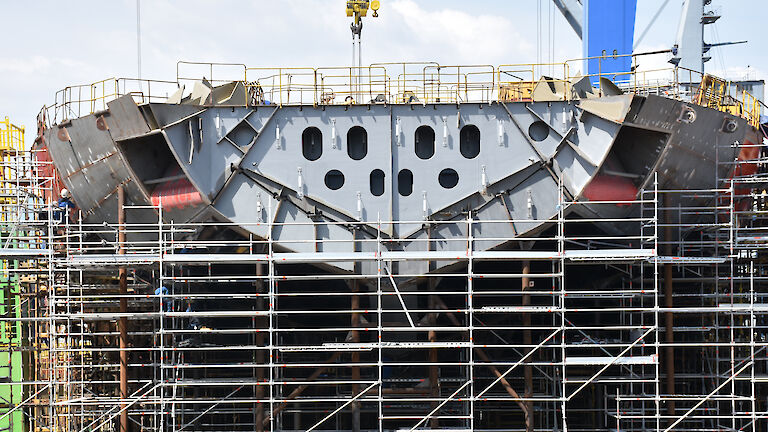 Anchors, ice knives and thrusters
4 May 2018
The hull of Australia's new Antarctic icebreaker RSV Nuyina is rapidly taking shape.
Read More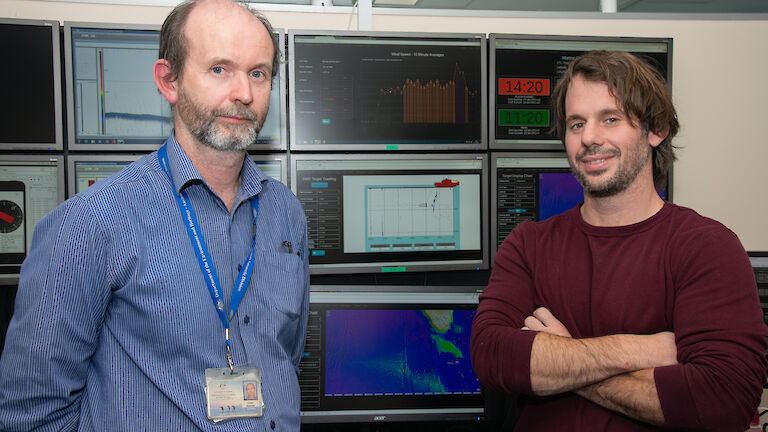 Data to the bunk
28 May 2018
Expeditioners and crew onboard the Aurora Australis can now get the 'DiRT' on what's happening on the ship, from the comfort of their own bunks.
Read More