Australia's new Antarctic icebreaker RSV Nuyina has been turned in the wet dock to facilitate construction of the 'superstructure', or decks above the hull.
The turn-around comes only one month after the ship was moved from the dry dock to the wet dock, to begin the next phase of construction.
Three tugs manoeuvred the more than 10,000 tonne ship into the River Danube, where it was turned and pushed back into the wet dock, bow first.
Australian Antarctic Division Icebreaker Project Manager, Mr Nick Browne, said the ship was turned to allow the shipyard's cranes to access the forward part of the vessel.
"Since the Nuyina entered the wet dock the ship-builders have done a lot of work on the mid-ship superstructure and the area around the aft science working deck," Mr Browne said.
"Now that the ship has turned, construction will focus on the forward part of the superstructure that includes the navigation bridge, extending forward to the cargo holds, hatch covers and forward weather deck."
The ship will be turned again to complete the aft part of the ship, including the helideck, heli-hangar and funnel stack.
This content was last updated 5 years ago on .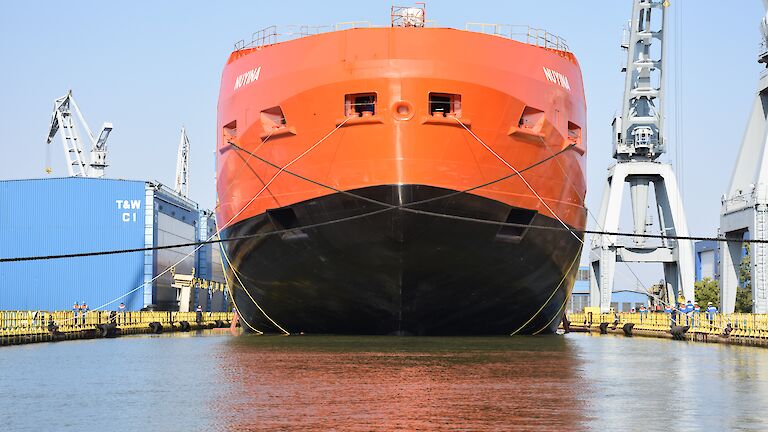 Antarctic icebreaker afloat
22 September 2018
Australia's new Antarctic icebreaker, RSV Nuyina, is now floating, after more than 50 Olympic swimming pools of water were pumped into the docks…
Read More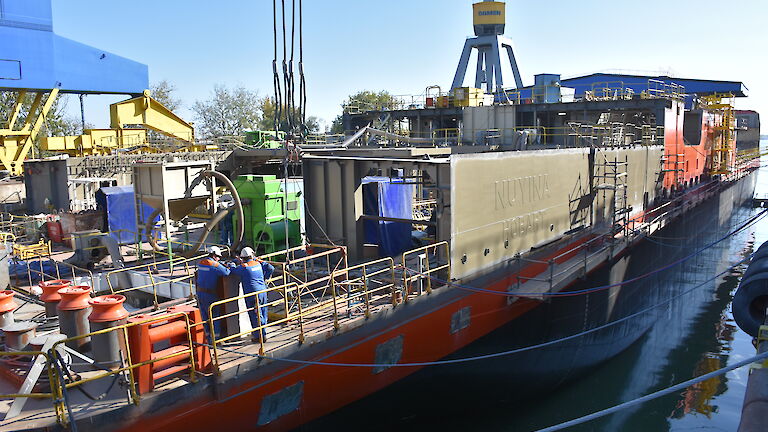 Ship superstructure on the rise
5 November 2018
Since Australia's new icebreaker, RSV Nuyina, was moved to a wet dock in late September, construction and internal fit-out has quickly progressed.
Read More