A model of Australia's new Antarctic icebreaker will be on public display for the first time at the Australian Wooden Boat Festival in Hobart.
The one-metre-long model, will sit alongside a model of the first Australian Antarctic Program vessel, the Wyatt Earp, in the Waterside Pavilion, Mawson Place from 10–13 February.
Australian Antarctic Division Director, Dr Nick Gales, said it is really exciting to see a physical representation of the ship, next to the nation's pioneering Antarctic vessel.
"The new icebreaker represents an exciting new era in Australia's engagement in Antarctica and the Southern Ocean, so it's great for the public to be able to see what the ship will actually look like when it arrives in Hobart in mid-2020," Dr Gales said.
"The new ship will be over 156 metres long, nearly four times the length of the Wyatt Earp, and will be a strong and durable vessel.
"It will have to navigate some of the world's stormiest seas and break through Antarctica's formidable sea ice barrier to resupply our four Antarctic and sub-Antarctic stations.
"She will accommodate 116 expeditioners and will be equipped with an array of cutting-edge scientific equipment including a moon pool, multi-beam bathymetric and scientific echo sounders, hydrophones and underwater cameras."
The Dutch company building the vessel, Damen Schelde Naval Shipbuilding, for prime contractor DMS Maritime, presented the model to the Australian Antarctic Division at a ceremony at the Pavilion today.
"The steel cutting for the new vessel is scheduled for the middle of the year, while the keel will be laid by the end of 2017.
A competition to name the new icebreaker will be open to Australian school children during second term this year.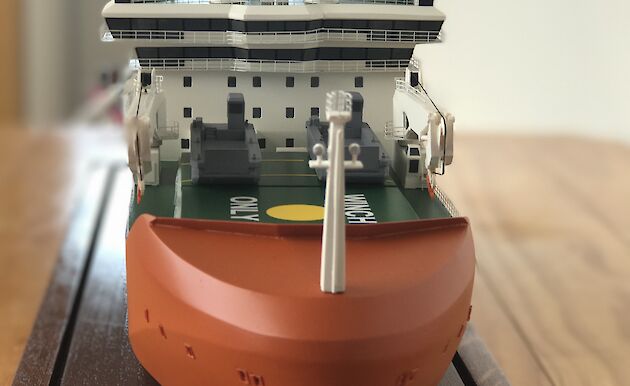 This content was last updated 5 years ago on .
Nuyina cranes and funnels
15 February 2017
The RSV Nuyina's two 55 tonne cranes are now installed, and the aluminium cladding for the ship's funnels has been lowered into place.
Read More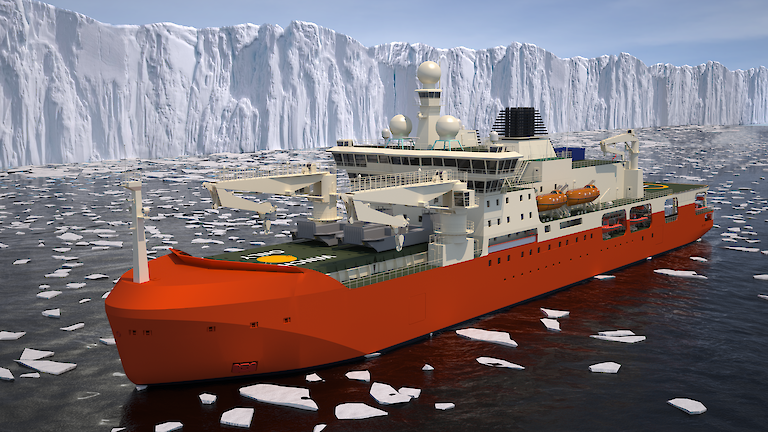 Australian students chance to fly to Antarctica
3 May 2017
An Antarctic experience of a lifetime is on offer for Australian students who win a national competition to name the nation's new icebreaker vessel…
Read More