RSV Nuyina is the Australian Government's centrepiece of the Australian Antarctic Strategy and 20 Year Action Plan launched on 27 April 2016. The $1.9 billion package covers the design, build and 30 year operational and maintenance lifespan of the icebreaker, representing the single biggest investment in the history of Australia's Antarctic program. The ship itself cost $528 million to design and build.
Nuyina, pronounced noy-yee-nah, means 'southern lights' in palawa kani, the language of Tasmanian Aborigines.
The ship has been designed so that it can support scientific research that answers the critical questions of today, while looking forward to the research demands of the next 30 years.
Check out our dedicated RSV Nuyina website for a deep-dive on the ship's capabilities, live tracking during voyages, and time-lapse video from the ship's webcams. Take a deck-by-deck look at the ship in our multimedia feature Ship of the Future.
Specifications
Length overall: 160.3 metres
Maximum beam: 25.6 metres
Maximum draught: 9.3 metres
Displacement: 25,500 tonnes
Icebreaking: 1.65 metres at 3 knots
Speed: 12 knots economical, 16+ knots maximum
Range: > 16,000 nautical miles
Endurance: 90 days
Cargo fuel capacity: 1,900,000 litres / 1671 tonnes
Container capacity: 96 TEU
Cargo weight: 1200 tonnes
Passengers: 117
Crew: 32
Antarctic service
Construction and delivery
Construction of the ship at Damen Shipyards in Romania commenced in May 2017, with a steel cutting ceremony. A keel laying ceremony in August saw the first building-block of the ship consolidated in the dry dock. In September 2018 the ship was floated from the dry dock to the wet dock, for the next phase of construction. In July 2020 the ship was 98% complete, but final harbour testing, and sea and ice trials, were delayed by the COVID-19 pandemic.
After completing her delivery voyage across the world from Europe to Australia, the ship arrived in Hobart on 16 October 2021.
First season – 2021/22
In its first season, RSV Nuyina delivered some outstanding outcomes. The vessel transported helicopters to Davis, before sailing to Casey to refuel the station. Its second voyage in February saw it return to Davis before heading north to resupply Macquarie Island.
RSV Nuyina's impressive acoustic instruments allowed acousticians on board to closely examine a little-studied seamount, higher than Mount Kosciuszko. A previously unknown deep canyon at the front of Vanderford Glacier was found and mapped. And for the first time, RSV Nuyina's unique wet well was used to collect Antarctic krill in perfect condition, allowing scientists to bring the keystone species safely back to Australia for future research.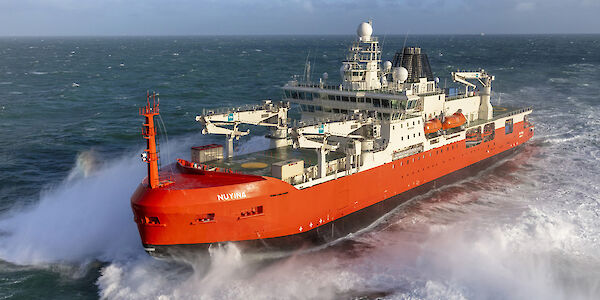 RSV Nuyina's horn bellowing 3 times across the ocean.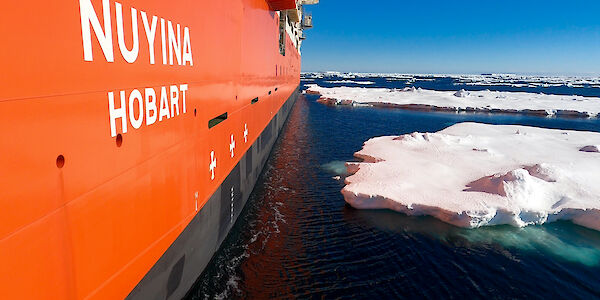 Nuyina, pronounced noy-yee-nah, means 'southern lights' in palawa kani, the language of Tasmanian Aborigines.