Stories
Flying the flag over Australia's new icebreaker
The Australian flag is flying on the nation's new icebreaker RSV Nuyina (noy-yee-nah) for the first time after a ceremony in the Netherlands yesterday.
The event in Vlissingen was the official transfer of the ship from its European build team, marking the final stage of a 1900-day journey from contract signing to handover.
The design and build of the vessel has been a multi-national effort between the Australian Antarctic Division, the vessel operator Serco, Danish concept designers Knud E Hansen, Dutch engineering and detailed design team Damen, and the construction team at Damen Shipyards Galati in Romania.
RSV Nuyina will now undergo some final preparations ahead of its eight-week journey to its new home port of Hobart.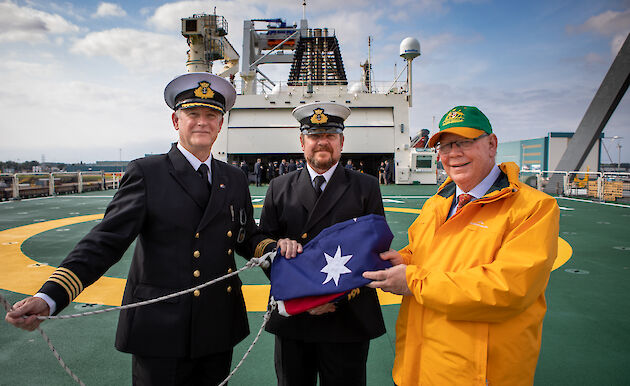 This content was last updated 2 years ago on .
Environmental assessment of RSV Nuyina operations open for public comment
22 July 2021
Call for public comment – draft Initial Environmental Evaluation – operation of RSV Nuyina 2021-2026
Read More
Birth of an icebreaker
22 August 2021
As Australia's new Antarctic icebreaker RSV Nuyina prepares to depart Europe for its home port of Hobart, we relive the highlights in the ship's life…
Read More