The Airbus A319-115LR is a modern twin engine aircraft with a range of 5000 nautical miles, providing the ability to fly Hobart to Antarctica and return without refuelling, a total of almost 4000 nautical miles.
Intercontinental flights operate during the summer months and land at the Wilkins Aerodrome, 70 km southeast of Casey.
Wilkins Aerodrome operates during the summer period and supports regular scheduled flights from Australia. The blue ice runway is capable of supporting large wheeled aircraft and smaller ski-equipped aircraft.
The intercontinental flight takes approximately four hours and 30 minutes in either direction, and the aircraft typically spends two hours on the ground in Antarctica before returning to Hobart.
Specifications
The A319 is a variant of the highly popular A320.
Range: over 5000 nautical miles providing the ability to fly Hobart to Antarctica and return without refuelling
Overall length: 33.83 m
Fuselage diameter: 3.95 m
Height: 11.76 m
Max cabin width: 3.70 m
Cabin length: 23.78 m
Wingspan: 34.10 m
Passengers and cargo
Passenger numbers depend on the requirements of the Australian Antarctic Program. The aircraft usually carries up to 38 passengers. The aircraft's flexible configuration provides for the transport of a combination of passengers and high priority, lightweight cargo. The Airbus A319 also has the capability to provide a rapid medical evacuation capability.
Up to 20 flights may be conducted each season. See the flight schedules page for current and past flight schedules.
The A319 is leased and operated by Skytraders Pty Ltd.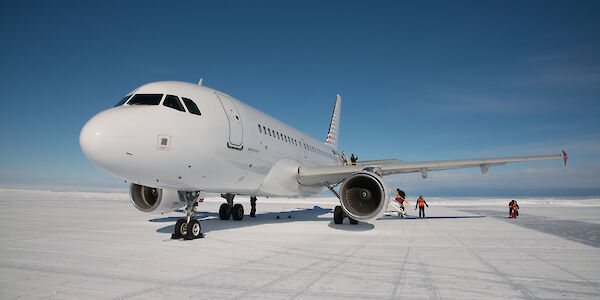 The A319 aircraft idles on the runway at Hobart, prior to departure to Casey.